By Chandra Vikash*
"We are in trouble just now because we do not have a good story. We are in between stories. The old story, the account of how the world came to be, and how we fit into it…sustained us for a long period of time. It shaped our emotional attitudes, provided us with life purposes, and energized our actions. It consecrated our suffering and integrated our knowledge. We woke up in the morning and knew where we were. We could answer the questions of our children."
– Thomas Berry, cultural historian.
"I love agitation and investigation and glory in defending unpopular truth against popular error."
– James A. Garfield
"Especially as I have always found Chandra an intelligent and thoughtful poster. I am not saying the forum should become a Gates foundation discussion area but if Degrowth is to become anything it should be open to listening to people's lived experiences. Degrowth will not succeed without holistic systems thinking. I highly recommend you listen to Vandana Shiva if you get time as she is esp good on how the Gates foundations and others are destroying local communities in India."
– Di Forsyth Member JTDR
Transcript of conversation in a "closed group" – Join The Degrowth Revolution (JTDR) – a global think-tank of sorts to which I was invited last year by the Asia coordinator of #FridaysForFuture climate emergency movement started by Swedish teenager Greta Thunberg. This connects the "dots" on Degrowth that challenges the dominant Limitless Growth agenda powered by greater technological advancements; CoronaVirus Pandemic and the ensuing Lockdown; Herd Immunity via socialized infection of a critical mass or through another vaccine for Covid-19, the disease caused in people with a prior illness or in high viral load conditions like in most allopathic hospitals that are claustrophobic, air-conditioned and aerosol-heavy due to various disinfectant vapors used.
This started with this post on 25th April 2020, which the moderator deleted the next day due to heavy traffic and though till the time I participated in the interaction, the comments were sincere albeit some were very sharp and strong. My assessment is that the moderator, in his wisdom, deleted it unwittingly, bcoz he might actually support my position deep in the inner recesses of our minds. Daniel Goleman's delves deep into this subject in his book Vital Lies, Simple Truths, in which he calls out the Third Kind of Lies – that we overtly tell ourselves. But the Truth however unpopular it may be at some times, prevails over Ms. Popular Error, as I share in the end as a parable: How Truth Always Wins. There are some things, that I accept in all my humility, we may never know. We only know that we don't know. Amen!
Kirk Hall (Admin/Moderator): "I have removed a post about drug testing in developing countries. It is an important issue but I removed the post because of the conspiratorial style of the post and the tone of the debate that followed.
The post accused Bill Gates of killing people in India and Africa.
Yes, we need to question why some drug trials are carried out in developing countries. I presume one reason is that safeguards are lower. That is despicable.
Here in the west, we were alerted to this by media including the 2005 movie, "The Constant Gardener" loosely based on a real-life case in Kano, Nigeria involving antibacterial testing on small children.""
Referring to Kirk 's post (that was by now muted bcoz of high traffic of comments raising the heat with strong arguments for and against), I wrote:
Dear Kirk,
I respect your decision to delete my post on a humanitarian crisis caused by Mr. Bill Gates fanatic and unscientific pushing and peddling of all kinds of toxic and injurious vaccination and to assert that his position is just a mirror image of Mr. Donald Trump's disinfectant-injecting therapy to treat Covid-19 disease.
Yet, I am dismayed that you may not be trusting the group's judgment to comment or ignore a particular post. The exchange with Rebekka Power was a useful one, sincere and sharp despite the strong difference of opinion. I am certain that there was no spamming involved. Next, I find your post informing on the deletion too has been muted for further comments.
In the larger interest at a time when the human race has to take a key decision on herd immunity via socialized infections of a critical mass as many leading epidemiologists have vouchsafed for or to wait for the Covid-19 vaccine that Mr. Gates is pushing for and which must go through scientific and humanitarian trials, may I request for a review of your decision?
Best Regards,
Chandra Vikash
Joy-Mari Cloete: " Promising his share of $450 million of $1.2 billion to eradicate polio, Gates took control of India's National Technical Advisory Group on Immunization (NTAGI), which mandated up to 50 doses (Table 1) of polio vaccines through overlapping immunization programs to children before the age of five. Indian doctors blame the Gates campaign for a devastating non-polio acute flaccid paralysis (NPAFP) epidemic that paralyzed 490,000 children beyond expected rates between 2000 and 2017. In 2017, the Indian government dialed back Gates' vaccine regimen and asked Gates and his vaccine policies to leave India. NPAFP rates dropped precipitously.
The most frightening [polio] epidemics in Congo, Afghanistan, and the Philippines are all linked to vaccines.
In 2017, the World Health Organization (WHO) reluctantly admitted that the global explosion in polio is predominantly vaccine strain. The most frightening epidemics in Congo, Afghanistan, and the Philippines, are all linked to vaccines. In fact, by 2018, 70% of global polio cases were vaccine strain.
In 2009, the Gates Foundation-funded tests of experimental HPV vaccines, developed by Glaxo Smith Kline (GSK) and Merck, on 23,000 young girls in remote Indian provinces. Approximately 1,200 suffered severe side effects, including autoimmune and fertility disorders. Seven died. Indian government investigations charged that Gates-funded researchers committed pervasive ethical violations: pressuring vulnerable village girls into the trial, bullying parents, forging consent forms, and refusing medical care to the injured girls. The case is now in the country's Supreme Court.
South African newspapers complained, 'We are guinea pigs for the drug makers."
Ref: Gates' Globalist Vaccine Agenda: A Win-Win for Pharma and Mandatory Vaccination • Children's Health Defense
Chandra Vikash: "Global public health advocates around the world accuse Gates of steering WHO's agenda away from the projects that are proven to curb infectious diseases: clean water, hygiene, nutrition, and economic development. The Gates Foundation spends only about $650 million of its $5 billion dollar budget on these areas. They say he has diverted agency resources to serve his personal philosophy that good health only comes in a syringe."
This is a damning indictment. Thanks for the valuable information. Can we join hands to stop his agenda with the Covid-19 vaccine?
Joy-Mari Cloete: Chandra Vikash I feel powerless to do anything. Jess Lawson Debunk the article rather than focusing on its source. (Jess Lawson later deleted his comment saying that the article was not from a credible source.)
Mark Allen: It is really important that groups such as this do not stray from their terms of reference. There are many other avenues on Facebook to have this discussion. Groups such as this are a window to focus on common ground and in this case it is the need to transition to a degrowth society. It is the role of moderators to ensure that groups stay on course. Otherwise what's the point of having separate groups on Facebook if it just becomes a place to discuss all kinds of issues? Perhaps you could post the link in the comments to show people where they can take this conversation up elsewhere in FB but please understand that people who run groups such as this have to keep it relevant to the topic.
Chandra Vikash: Coronavirus Pandemic and the political response of Lockdown and Swedish exceptionalism of evidence-based decisions to build Herd Immunity is a watershed development for the Degrowth Revolution.
There are 2 routes to achieving Herd Immunity.
One, is through socialised infection of a critical mass in an intelligent way.
This has 3-fold objectives. a, to minimise fatalities of the vulnerable sections with risk factors; b, to minimise its economic impact of a complete lockdown or customised checks and balances and c, to leverage the opportunity to usher into a green revival looking at the larger picture of toxic growth, climate emergency and growing inequality and injustice, what de facto Degrowthers have been calling out for. This emphasises localisation and circular economy which also builds greater immunity to all kinds of virus and other pathogens.
The other route is to wait for a Covid-19 vaccine which must come through a due process of trials. There is also a suspicion that vaccines are being used as a tool of genocide and/or enslavement, even as much of this is undercover. The other big issue is that with new far stranger and dangerous Permafrost viruses on the way, developing vaccines every time a paandemic hits human race, is not a good idea, anyways.
It would be a travesty to miss out on this opportunity that is knocking at our doors.
Mark Allen: Agreed but I don't see the connection surrounding narratives around Bill Gates and the vaccination issue. I am not saying that this isn't an important topic but it does not relate to the degrowth movement. The fact that this pandemic is a window of opportunity to show the world that degrowth is possible, is definitely true.
Chandra Vikash: Mark Allen Notably, the other group moderated by Kirk is called Degrowth -It's Urgent.
As a systems thinker, my duty is to bring out non-obvious linkages or to connect the "dots". I stand my ground. Bill Gates' vaxxy agenda is not only relevant to Degrowth Revolution, but it is also far too critical to be left unattended.
Mark Allen: Fair enough but we will have to agree to disagree on that one.
Chandra Vikash: I respect your viewpoint even if I may not agree to it.
(An admin turned off commenting for this post.)
Kirk Hall (Admin): Environmental and social justice advocates must choose their battles. For me, that does not include drug testing in developing countries (unless I come across reputable, mainstream media reports).
If a significant number of countries don't adopt Degrowth then our children face a grim future. One country must lead the way. That will only happen if enough citizens understand Degrowth. Spreading the Degrowth message is a massive task. That is the battle I have chosen and I thank members for joining me.
Corporations have committed many crimes against the planet and it's inhabitants. Bill Gate's vaccine program might be criminally flawed or it might be a conspiracy theory – I don't know. Sadly, I don't have time for that battle. I have decided there are enough other, clearer, battles to discuss in this group.
Any future posts about vaccines will be removed and that member might also be removed.
Les Kuzyk: Awesome strategy Kirk Hall, I have data today of 1.36 million vehicles, that burn 3.1 billion litres of fuel, that will be the basis of an improved way of calculating planets consumed … does Australia have a national census done by a Statistics Department ? Picking battles, yes, and at times multiple battles at once
Kirk Hall: "Australian Bureau of Statistics". Not sure if the collect that type of data. Might be the EPA. Tagging people who have been involved in this discussion recently:
Chandra Vikash, Joy-Mari Cloete, Mark Allen, Jess Lawson, Rebekka Power, Sonya Burey, Jill Kellow, Rosanna Odell, An Pl.
Rebekka Power: Agree completely with your decision Kirk
Rosanna Odell: I didn't realise that previous post I was commenting on was about testing vaccines in India. I thought it was more about the ridiculous conspiracy theory that gates is trying to depopulate the world by killing them off with well produced vaccines like the polio vaccine.
Di Forsyth: Kirk I understand where you're coming from with this and as it's your group you absolutely have the right to set the rules. But given that Chandra actually lives in a region that has a very troubled history with the Gates foundation and given that much of this history is intimately connected with the growth agenda I think it's worth giving him the benefit of the doubt. There are very few people from "developing" nations on this forum and surely to God we should not be coming down heavy-handed when we finally do get the opportunity to hear global voices, not just those from the richer countries.
Especially as I have always found Chandra an intelligent and thoughtful poster. I am not saying the forum should become a Gates foundation discussion area but if Degrowth is to become anything it should be open to listening to people's lived experiences. Degrowth will not succeed without holistic systems thinking. I highly recommend you listen to Vandana Shiva if you get time as she is esp good on how the Gates foundations and others are destroying local communities in India.
Rosanna Odell
:
Di Forsyth some interesting points you've made there. Thanks for mentioning Dr Vandana Shiva and her critique of Gates. While her argument could easily help conspiracy theorists arguments, she's taking a different tack, the local is better, the earth can look after itself if we nurture it and we don't need big technological solutions to fix the earth (if we just work fast enough!!). I can completely see how this fits into the degrowth narrative now and I would really like to learn more. I had only learnt about gates and his polio work not about his work with patenting seeds. It's seems that the patenting may not be the right way to go (even if gates thinks that he is truly doing the right thing-it doesn't mean he can't be wrong)
Based on the comment above, I am starting to see the link between the critique of gates and degrowth (I was blinding thinking gates is doing only good rather than looking at individual programs). Gates focus on technological solutions rather than localism may be leading him to make the wrong choices with some of his programs. This interview is very interesting about the patenting of seeds is not the best way forward. What do you think
Kirk Hall
and others? Does Vandana Shiva have a point? I think Gates thinks he's doing only good things but is he right on patenting these seeds? 
Kirk Hall
:
Vandana Shiva, is one of my heroes. I was alerted to the fact that she has criticised Gates by Di Forsyth's comment. I had just finished watching that video when I saw your comment. I will comment shortly.
This and two recent posts on Bill Gates have highlighted the importance of clear communications. Sadly, we live in a world of sound bites and shallow thinking. The average person devotes very little time to researching environmental and social issues.
Spreading the Degrowth message is critical, especially during the pandemic while there is a mood for change. Every moment spent deciphering unclear posts and comments is a moment wasted. Some topics are clear: the polio vaccine saved countless lives and prevented enormous misery; children should be given measles vaccines. Yet there are fringe groups circulating anti-vaccination nonsense.
I suspect that Vandana Shiva has good cause to criticize Bill Gates. Sadly, I don't have time to follow up this import issue as I am following up many other important issues.
Given the proliferation of conspiracy theories, members posting about topics that might be misunderstood have an obligation to be clear and concise so that others can also continue fighting the many other battles.
Rosanna Odell
:
Kirk Hall I love your comment. I think the lesson learned is that memes are very very unhelpful.
Kirk Hall
:
Rosanna Odell Or perhaps unclear memes are unhelpful.
Chen Gai
:
Kirk Hall – I am of the opinion that ALL memes are unhelpful. No matter the message, they are designed to ignite the "click and share" response only, without critical thought, even without spellcheck. When I hear that stupid unlicensed clip music soundtrack, I am gone.
Rosanna Odell
:
Kirk Hall

to clarify all memes need to have a description with them on what the posters think of the meme.
Chen Gai
:
Bill Gates is a billionaire. There is no way Degrowth can be aided by even the existence of billionaires. Nothing is sustainable while they exist. And when their children take over the foundations that harvest progress from society to feed a limitless ego, life on Earth will only get worse for populations overall.
Chandra Vikash
:
Appreciate your moderation. I am open to accept alternative view points as well as stick to the core agenda of Degrowth Revolution on this forum here.
Yet, as a systems thinker given to seeing non-obvious linkages and a well-researched, practiced and lived capacity to connect the "dots" for nearly 2 decades, I must share the description to the "unclear" meme on Bill Gates' vaccine agenda in the light of Covid-19 vaccine to contain CoronaVirus Pandemic and how it is highly relevant to the DR agenda.
1. The crux of the matter is not just the authenticity and credibility of information available on this one critical issue. The deeper issue is what has been long since pointed out as a fundamental flaw that limits the power of the Internet to effectively change the world for the better. And that is THIS – OVERWEANING THIRD PARTY CONTROL – CORPORATE AND GOVERNMENTS OF "SOVEREIGN" NATION-STATES OVER THE INTERNET.
2. We saw what trnspired in the FB-Camridge Analytics case. We have seen Wikileaks and whistleblowers taking great risk to inform us about the diabolicl agenda of a section of globalists. It would be naive therefore to disbelieve some post simply bcoz there is no "verifiable and credible" mutually accepted source of information.
3. Even if we are to dismiss that there is a far more practical issue. Nothing that has costs behind can be free. Internet and third party service providers have huge costs that must be paid for by the end-users in some way. The current mechanism of advertisement revenue or corporate sponsorship ultimately depends on continued economic growth engine to be whirring and vrooming at ever greater breakneck speeds to feed the greed and voracious appetite of the stock market and its investors.
4. Hoping that Degrowth Revolution can ride over Facebook and such Third Party Platforms can take us only so far where it does not impinge on the Limitless Growth agenda.
5. As an alternative, I would like to propose a new framework for localisation and minimalist global governance called LACE/GAIA model. In the spirit of Bloom Where You are Planted, I offer to host the global pilot of Localised Abundance and Circular Economy i.e. LACE as well as global hub for Global Assembly of Autonomous and Indigenous community-states as outlined in the presentation on this link below. This is around the area where I have been living for past 7 years in Delhi National Capital Region.
PS: As an aside, even as I believe myself to be a dispassionate systems thinker and activist, my eyes did well-up on reading the compassionate and empathetic comments above esp. from Di Forsyth and Kirk Hall's response to it. One area where the Indian discourse truly is impoverished is such high-caliber moderation of the national discourse in India. Also, that though India is considered a "poor" and "developing" country, I am privy to treasure chests of knowledge and practices that can bolster and pump-prime the Degrowth agenda in the Post CoronaVirus world as we explore and establish new "normals".
Joy-Mari Cloete
:
The medical field deserves criticism from the degrowth community. It's not healing us. It's taking a toll on our wallets, the environment, and our bodies. Vaccines have not eradicated the diseases they claim, Kirk Hall Please don't think I'm a conspiracy theorist. Disease definitions matter. Diseases also have more than one possible cause.
I'd recommend some authors but I know it's hard to read "conspiracy nut" authors' works when one thinks vaccines are beneficent. So I'd encourage you rather to look up how they have defined polio, eg before and after the polio vaccine arrived.
Medical error, alone, kills hundreds of thousands of Americans. And medical error isn't necessarily that the doctor has prescribed the wrong medicine; rather, medical error can be as result of the doctor prescribing the correct medicine. It could be because of the medical industry's food pyramid that says animal products are bad for us and plants are good for us.
I'm in the southern hemisphere and I'd be very curious to know how many people die here because of medical error.
And even just something like C-sections… It's generally unnecessary yet it's become the default way to birth a baby, even here in a supposed third-world country.
The medical industry needs vast amounts of resources to exist. Is it justified, considering its track record? It perpetuates globalism because how many countries in the global south develop their own medicines, including vaccines?
The medical industry gives, at best, conflicting messages: let food be thy medicine BUT take this pill that has XYZ known contraindications and XYZ known side-effects and you'll hopefully get better. If you don't, come back and we can tweak the dosage or put you on something else. Go on a low-fat diet. Don't eat collagen-rich chicken skin but don't be surprised when you develop arthritis or when your children develop chicken pox.
So that leaves us thinking we have to pay a doctor to get better yet we've been poisoned by pesticides, by exhaust fumes, by VOCs, by PERFUMES, by lead, by asbestos, etc.
The medical industry is slow to recognise the dangers of, eg formaldehyde in vaccines. Of Mercury.
Doctors would rather do something than do nothing because they're afraid of being sued. That is yet another possible reason why there are many unnecessary surgeries and pill prescriptions. The fear of being sued also perpetuates the insurance industry and the legal profession.
I'd go as far to ask whether we need ANY surgeries? Perhaps only during a transition period where we're cleaning up our environment and ourselves. But afterwards? I'm not so sure.
And please know that many vaccine critics used to vaccinate their children. Vaccines, like medicine in general, have the potential to harm us.
Chen Gai
:
please stop this here.
Joy-Mari Cloete
:
Chen Gai What should I stop? Should I stop connecting some dots?
Daniel R Pugatsky
:
Joy-Mari Cloete

This is why the Left stays out of power. People see them governing their own little spaces (like this one) as censorious little despots and then shudder to imagine them governing a bigger space – like a country. If the moderators here censor posts, what would they do if they actually ran a country? Censor the shit out of everyone and everything on any topic they don't like? Repeal the 1st Amendment? That's why they don't win anything. Because people don't trust them with power.
Chandra Vikash
:
At 49 and married for 18 years with two daughters – 17 n 12, we have ZERO allopathic medicines – not even paracetamol. With robust immunity from pure and natural food, we don't fit into the normal in the urban milieu in Delhi NCR. Our children have had only the basic vaccines, esp. since we learned about the toxins in them.
From that vantage point, I am certain that Degrowth is possible by eliminating wasteful consumption and staying healthy.
DISCLAIMER: Well-aware that "Join the Degrowth Revolution" is a closed group, I am sharing these transcripts in the larger interest of humanity, the common chord that connects us all irrespective of our geographies, ideologies of right and left, capitalist and communist, nomenclatures such as west and east; global north vis-a-vis global south; indigenous and non-indigenous and the most ludicrous one of "developed" vs. "developing" when we all agree that the extant Development model is flawed in its assumptions of Limitless growth (of the material economy) that JTDR members so strongly believe in. 
Annexure:
Primer on Systems thinking – Bushfires in Australia caused by Globl Man-Made Climate Change
"This summer's bushfires were not just devastating events in themselves. More broadly, they highlighted the immense vulnerability of the systems which make our contemporary lives possible.
The fires cut road access, which meant towns ran out of fuel and fell low on food. Power to towns was cut and mobile phone services stopped working. So too did the ATMs and EFTPOS services the economy needs to keep running.
In a modern, wealthy nation such as Australia, how could this happen?
In answering this question, it's helpful to adopt "systems thinking". This approach views problems as part of an overall system, where each part relates to each other.
In other words, we need to look at the big picture.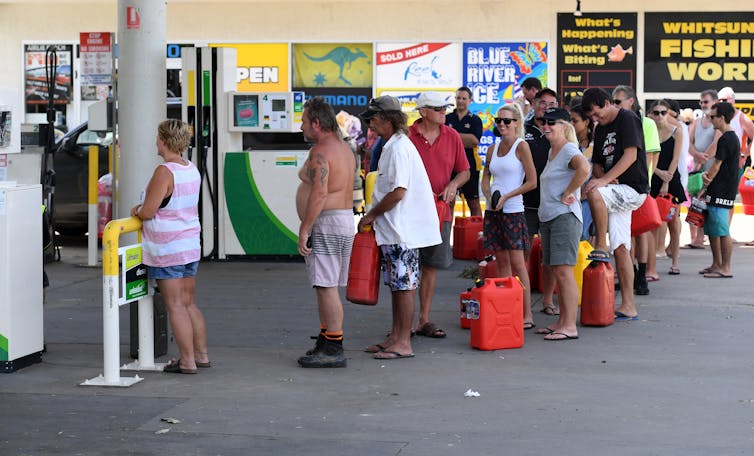 Through a systems lens
Systems are everywhere, from the coral ecosystem of the Great Barrier Reef to the vast technology networks of global financial markets. In a human sense, social systems range from the small, such as a family, to large organisations or the national or global population.
The systems I mentioned just now are "complex" systems. This means they are connected to other systems in many ways. It also means a change in one part of the system, such as a bushfire in a landscape, can set off unpredicted changes in connected systems – be they political, technological, economic or social."
Reference: No food, no fuel, no phones: bushfires showed we're only ever one step from system collapse
Did you know how 
Truth

 Always Wins?

Ms. Popular Error (as her various suitors except One, popularly perceive her) is a beauty with brains with lots of grace and compassion but in the popular imagination too good to be True. There is no one in the City who consider themselves as eligible bachelor, who wouldn't like to marry her. The rich and famous, intellectuals, sports stars and cine stars, you name them, they are all after the one and only Ms. Popular Error. But she chooses a non-descript environment activist popularly called as Mr. 

Unpopular

 

Truth

 whose position in the society is at the fringe. Popular perception is that he is too much of an idealist, impractical and radical. But as fortune may have it, Ms. Popular Error decides to marry Mr. 

Unpopular

 

Truth

 to almost everyone's utter surprise.

Life goes on. As usual they make love, give space to each other, fight over several differences and adjust, adapt as they learn more from each other. TheN from their awesome love in deep embrace hugs and kisses, twists and turns, the beautiful child they bear is called as Popular 

Truth

.

It always wins.

Therefore, Satyamev Jayate.

* Chandra Vikash is a systems thinker and activist. He is Convener of GAIA – Global Academy for Indigenous Activism and Chief Mentor/Innovation Coach for GAIA Innovation Labs.